 Anti-Foaming Agent Market By Type (Water Based, Oil Based, Silicone Based), By Applications (Paper & Pulp, Oil & Gas, Paints & Coatings, Water Treatment, Food & Beverages, Detergents, Pharmaceuticals, Textiles), Industry Analysis, Trends, and Forecast 2019 – 2025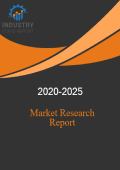 Anti-Foaming Agent Market By Type (Water Based, Oil Based, Silicone Based), By Applications (Paper & Pulp, Oil & Gas, Paints & Coatings, Water Treatment, Food & Beverages, Detergents, Pharmaceuticals, Textiles), Industry Analysis, Trends, and Forecast 2019 – 2025
Report ID:
BMRC 154
|
Number of pages:
200
|
Publish Date:
May 2019
|
Publisher:
BMRC
|
Category:
Chemicals and Materials
Anti-Foaming Agent Market is valued at USD 5563.03 Million in 2018 and expected to reach USD 8644.87 Million by 2025 at a CAGR of 6.51% over the forecast period – Increasing environmental awareness, growing urbanization and high income are the potential drivers for Global Anti-Foaming Agent Market.




Scope of Report:




Global anti-foaming agent market report published by the Brandessence Market Research and Consulting Pvt. Ltd. provides the detail information about Genotyping Assay market from various aspects. This repost consist of drivers, restrains, Opportunities which help the market to grow over the analysis period and recent trends which supports the growth of market. This repost consist of regional segmentation with type, technology, material and application.




Anti-Foaming Agent Market Analysis




Foam is an unwanted by-product produced during the production of various substances. The chemical industry is constantly trying to minimize the production of foam from different biochemical materials. Biochemical substances such as protein easily curate foam. Foam creates several serious problems in a chemical by blocking the normal oxygen flow. Anti-foaming agents such as silicon oils are enormously used in the chemical industry to reduce the growth of foam in the produced chemicals. Food and pharmaceuticals industries are also suffer from this same problem and they massively use anti-foaming agents to keep their production quality at par.




Increasing environmental concerns & regulatory guidelines regarding release of effluents through different industries as well as control on VOC emissions are the main factors supporting the growth of this market. However, several industries are unaware of the use of antifoam products in the developing economies of the world, which creates a hindrance in the market growth. Further, technological advancements in composition and performance of deformers is anticipated to provide numerous opportunities to the market.
Global anti-foaming agent market report covers prominent players like BASF, Evonik Industries, Air Products and Chemicals Inc., WackerChemie AG, DOW Corning Corporation, Ecolab Inc. (Nalco), Shin-Etsu Chemical Company Ltd, Ashland Inc., Kemira OYJ, Elementis PLC and others.




Anti-Foaming Agent Market Segmentation –




By Type:




Water Based
Oil Based
Silicone Based
Others




By Applications:




Paper & Pulp
Oil & Gas
Paints & Coatings
Water Treatment
Food & Beverages
Detergents
Pharmaceuticals
Textiles
Others





By Region:




North Am­erica
U.S.
Canada
Europe
U.K.
France
Germany
Italy
Asia Pacific
China
Japan
India
Southeast Asia
Latin America
Brazil
Mexico
Middle East and Africa
GCC
Africa
Rest of Middle East and Africa




Anti-Foaming Agent Market Key Players
BASF
Evonik Industries
Air Products and Chemicals Inc.
WackerChemie AG
DOW Corning Corporation
Ecolab Inc. (Nalco)
Shin-Etsu Chemical Company Ltd
Ashland Inc.
Kemira OYJ
Elementis PLC
others
This free Sample Report is purely a representation of our full report, for evaluating the market scope/data and make informed purchase decisions.